The importer can handle several different import formats, and columns can be mapped to the appropriate WooCommerce fields to merge or create orders. Your data can be imported as a file, copy and pasted, or added via a URL.
Let's say your store offers 200 t-shirt designs and every one has a color option of blue, black, and red. You receive a notification that your manufacturer will no longer supply red shirts. Now you have to update 200 products to reflect this change. Instead of going into each one individually and removing the red variation, you could bulk export your products, delete the red option, and then import the revised information back into WooCommerce.
You want to create a printed product catalog
2. Make your selections, then click Generate CSV.
Note: Choose Products or Orders instead of Product or Order when exporting. 
5. CSV delimiter: Generally CSV elements are separated by a comma. If you are using a different delimiter in your file, you can set it here. 
There are a few ways to import and export products and orders depending on the type of information you need:
Built-in product import and export tools: Great for importing and exporting product data for simple and variable product types 
The built-in analytics tool, WooCommerce Analytics: An excellent option for exporting some types of basic product and order data 
The WordPress native Import and Export tool: Great for importing and exporting more detailed data. However, the results will be in an XML file and they look a bit messy. They also don't export or import complete order data.
An import/export extension: The quickest and simplest method here. This is also great for customizing the information you want to import/export and handling detailed data.
Database manual import and export: Good for dealing with complete or detailed product and order data. However, this requires some development experience.
Order reports can include:
Date
Order number
Status
Customer name
Customer type
Product(s) purchased
Number of items sold
Coupon(s) used
Net sales

You can also create a CSV file from scratch using the Product CSV Import Schema. If you want to import products from an existing WooCommerce store, you can export them from the existing store and change any necessary information before importing it into the new one.
WooCommerce Analytics

WooCommerce Analytics is a reporting and data analysis tool that comes with version 5.3 and above of WooCommerce. The suite includes advanced filtering and segmenting tools for your reports, report downloads in CSV format, and a customizable dashboard to monitor key metrics of your store. Learn more
Exporting product and order data with WordPress' Export tool
While WooCommerce has a lot of different reporting capabilities, you may want to generate reports unique to your company. For instance, if you want one that shows how many of a specific product is sold in a particular country, state, or province per year, you'll need to create this yourself. Exporting full product sales and order data gives your analyst the data they need to make this happen.
You're importing orders in bulk that were placed manually through email, over the phone, or in person
This exported file will also define what types of data can be imported. This is especially important when it comes to order information since the Orders post type does not include complete order information. 
With Import Export Suite for WooCommerce, you can import, export, migrate, and update all your WooCommerce data in bulk using either a CSV or XML file. All WooCommerce product types are supported, including: 
simple
grouped
external
variable
If you're moving from BigCommerce, Shopify, Magento, or some other eCommerce platform, being able to import your product catalog in bulk is a huge time saver. 
You need to update product information in bulk
If you need to export products from your store, the process is fairly straightforward. 
Which CSV editor should I use?
Keep in mind that WooCommerce Analytics is limited to fairly high-level data and does not import/export complete product or order information. If you need detailed information like how many sales were made in a specific country over a certain period of time or are looking to bulk edit product descriptions in your store, you'll need to export that data directly from your database or using an extension like Import Export Suite for WooCommerce.
Exporting product analytics
Customer/Order/Coupon CSV Import Suite is only an importer. It doesn't create exports. You'll need to purchase its companion plugin WooCommerce Customer/Order/Coupon Export or another order export plugin if you want to export order information. 
You can toggle on or off the SKU, Orders, Category, Variations, Status, and Stock columns. When your report reflects the information you need, click the Download button at the top right of your product results view. Your data will be downloaded as a CSV file.
Exporting order analytics
To filter your results for specific data columns, click on the vertical ellipsis at the top right of your product results view.

7. Click Continue. This will take you to the Column mapping screen.
Select your XML file using the Choose File button, then click Upload file and import.
Using WooCommerce extensions to import and export products and orders
3. Select Browse to choose the CSV you want to use. 
You can use the Import feature to import new products or update existing ones.
With this extension you can export individual orders, customers, or coupons and automate your exports with data transfers via FTP, HTTP POST, or email. The export process runs asynchronously in the background on your site so you can continue working in other areas of your store while your export completes.
WordPress' Export tool can export custom post types like:
Products
Variations
Orders 
Refunds
Coupons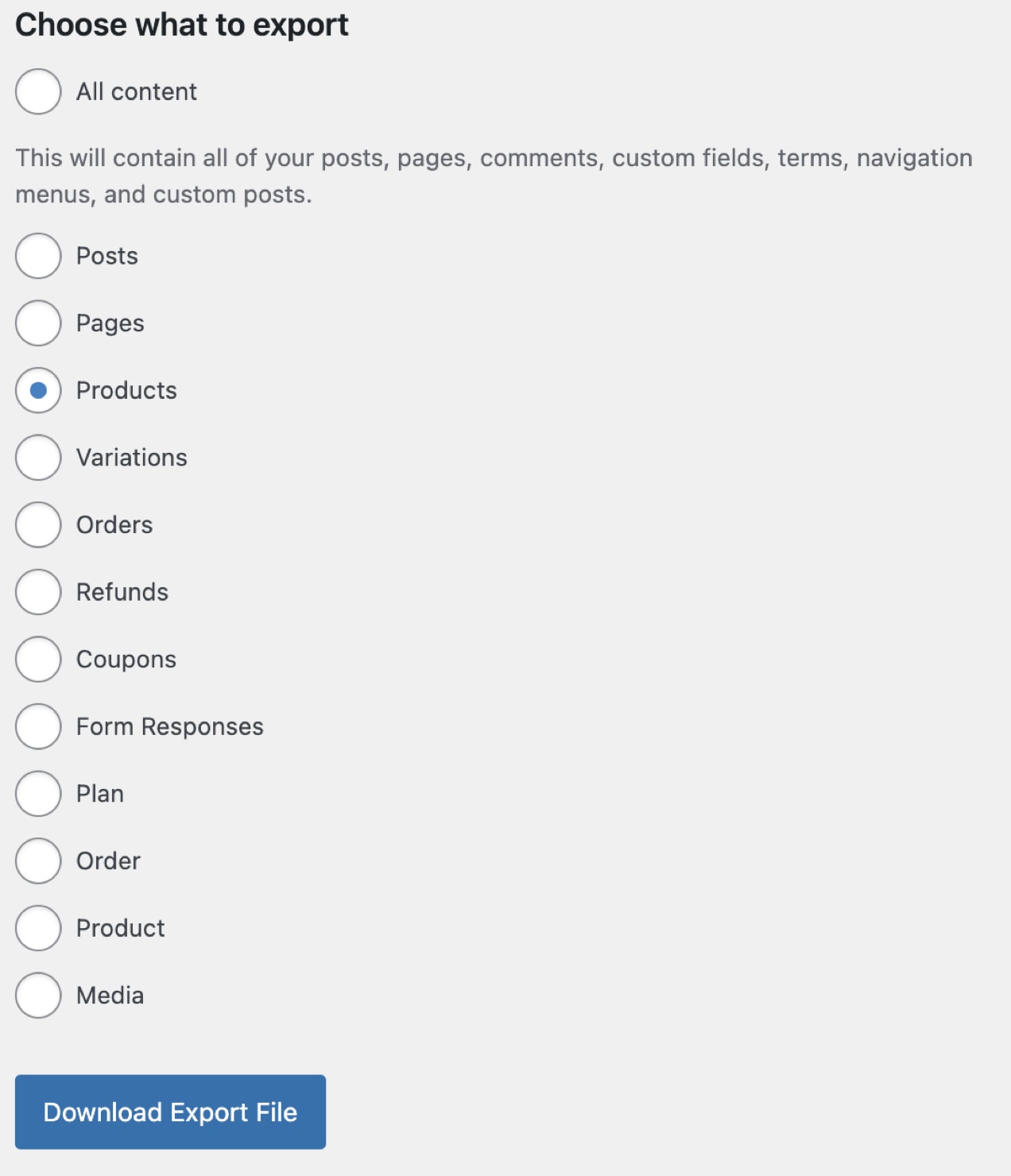 Product CSV Import Suite is able to capture custom field and taxonomy information that you can include in your imports and exports. It will also import custom data from extensions like Product Add-Ons and Dynamic Pricing. 
If you only have four or five products, you could probably add them manually, but if you've got a catalog of hundreds or thousands, you definitely don't want to spend days or weeks trying to add those one-by-one.
You need to import products from another eCommerce platform to WooCommerce
If you delete order data periodically in WooCommerce, you might want to back up historic orders in a CSV file somewhere in case you need to access them in the future.
How to import and export products and orders
Take the time to consider what import and/or export data you need to efficiently and effectively run your store and choose the solution that best supports your goals.