One-click staging is usually offered on managed WordPress hosting plans.
Pros:
It's fast and straightforward to deploy from your hosting company's admin panel.
It often includes one-click live deployment.
It automatically generates a staging URL, so you don't have to purchase a different domain for testing, or mess around with subdomains and DNS.
It's typically included in your hosting plan, so there are no added costs. 
It automatically updates root URLs in the staging site's database.
It's easily accessible to collaborators.
Search engines are automatically discouraged from crawling content. 
It uses a secure https:// connection.
Cons:
Some hosts may use plugins for one-click staging deployment that conflict with your theme or other plugins on your site.
You don't have any control over what methods are used to create the staging site.
Manual staging on a web host
5. Assign all privileges to the user account and click Make Changes.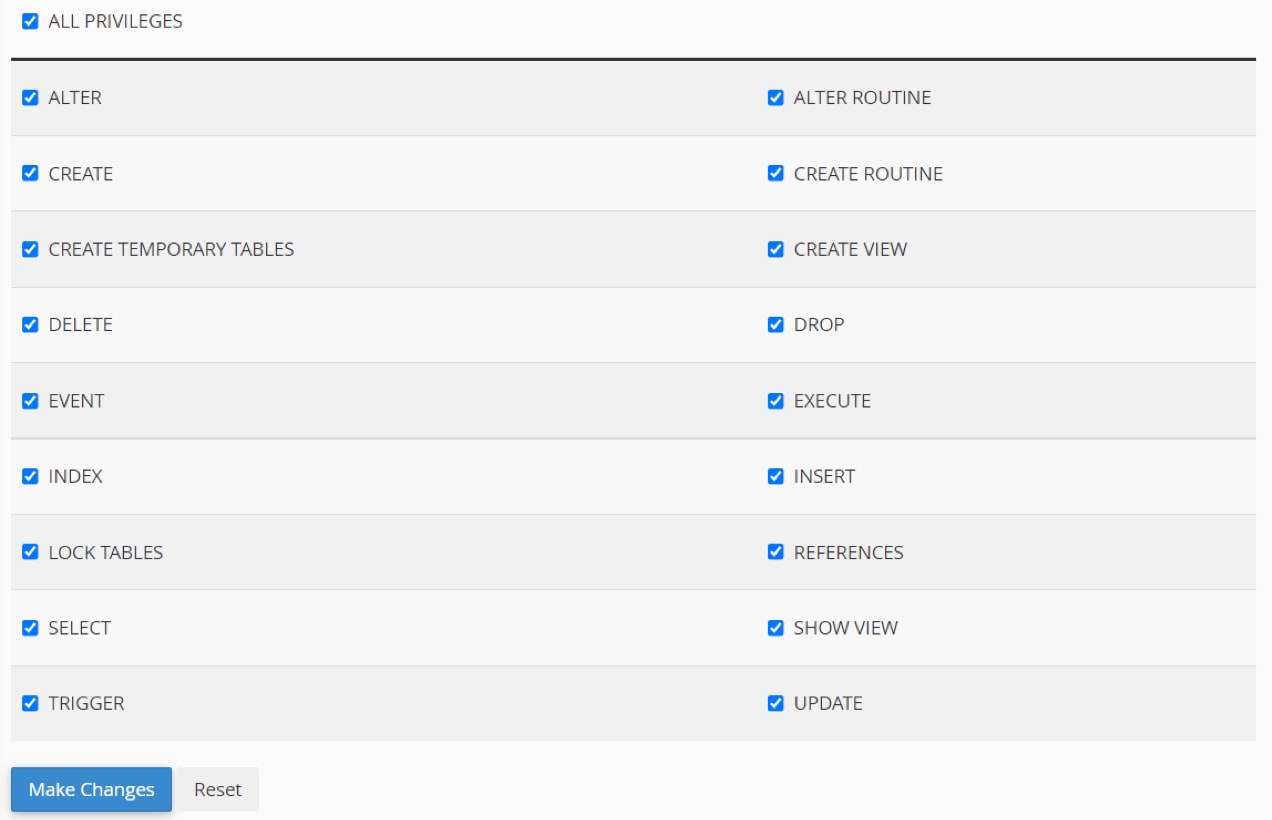 Staging environments are usually hosted through a web hosting provider — often the same one that hosts your live site. You can create a one-click staging site through your host, build one manually with a hosting provider, or use localhost on your own computer.
Not only will your live store not go down if you make a mistake, you can also take whatever time you need to test and experiment without confusing site visitors.
Key components of a staging site
When you're updating your site, adding new features, or rolling out a new design, you want to make the process as seamless and safe as possible. And while you can always restore a backup if you have one on hand, it's better to avoid that in the first place. 
No matter how you set up your staging site, make sure that you have: 
Web hosting that meets WooCommerce requirements. If your hosting doesn't meet WordPress requirements, you might not be able to copy your live site over successfully. 
A staging domain name linked to your web host. Some hosting companies may let you set up new instances of your site on test URLs that they own. Others may require that you use your own purchased domain name. If you're using a URL you own, make sure that it's connected to your hosting account through your DNS records.
Login details for your hosting control panel. These details are usually the same as the login information for your hosting account. If you're unsure, check with your hosting provider.
Secure file transfer protocol (SFTP) credentials. These can be found in your hosting control panel. If you're unsure where to find them, ask your host's support. The details you will need are:
Host (your live server's IP address)
Username
Password
Port number
Note that you will need the premium version of the plugin to push changes from staging to live. However, if you aren't a developer and don't have staging tools as part of your hosting plan, the ease of use will most likely be worth the investment. 
Setting up a WordPress staging site manually
The following steps are based on a host that uses cPanel. If your host uses an alternative like Plesk or a proprietary control panel, the steps should still be quite similar. However, if you're unsure, you can likely find assistance in your hosting provider's help documentation or by reaching out directly to their customer support team.
Step 1: Make a backup of your live site 
Now that your data has been imported, you'll need to replace all instances of your live site's URL with your new staging site URL.
Open phpMyAdmin and select your database.
Click on your wp_options table. Tables usually appear on the left.
Take a break and grab a cup of coffee. You've completed your manual staging site setup and can now begin troubleshooting, experimenting, and testing!
Test your staging site for errors
In your Siteground account, go to the Websites tab and click Site Tools underneath the website you want to duplicate. Go to WordPress → Staging.
Even if you intend to use a plugin to copy your live site to a staging environment, the migration may not go smoothly. You should be prepared to copy your site over manually. To do so, you'll need an SFTP application like: 
If you see these lines in your file, you'll need to change them to the URL of your staging server.
Save your wp-config.php file and overwrite the one you uploaded to your web server by dragging and dropping it over using your SFTP client.
Step 6: Import your live site's database
Go to phpMyAdmin on your web server. In cPanel, you'll find this under Databases.
Select your newly created database, then click the Import tab.
Click Choose File and find the sql file that you exported earlier.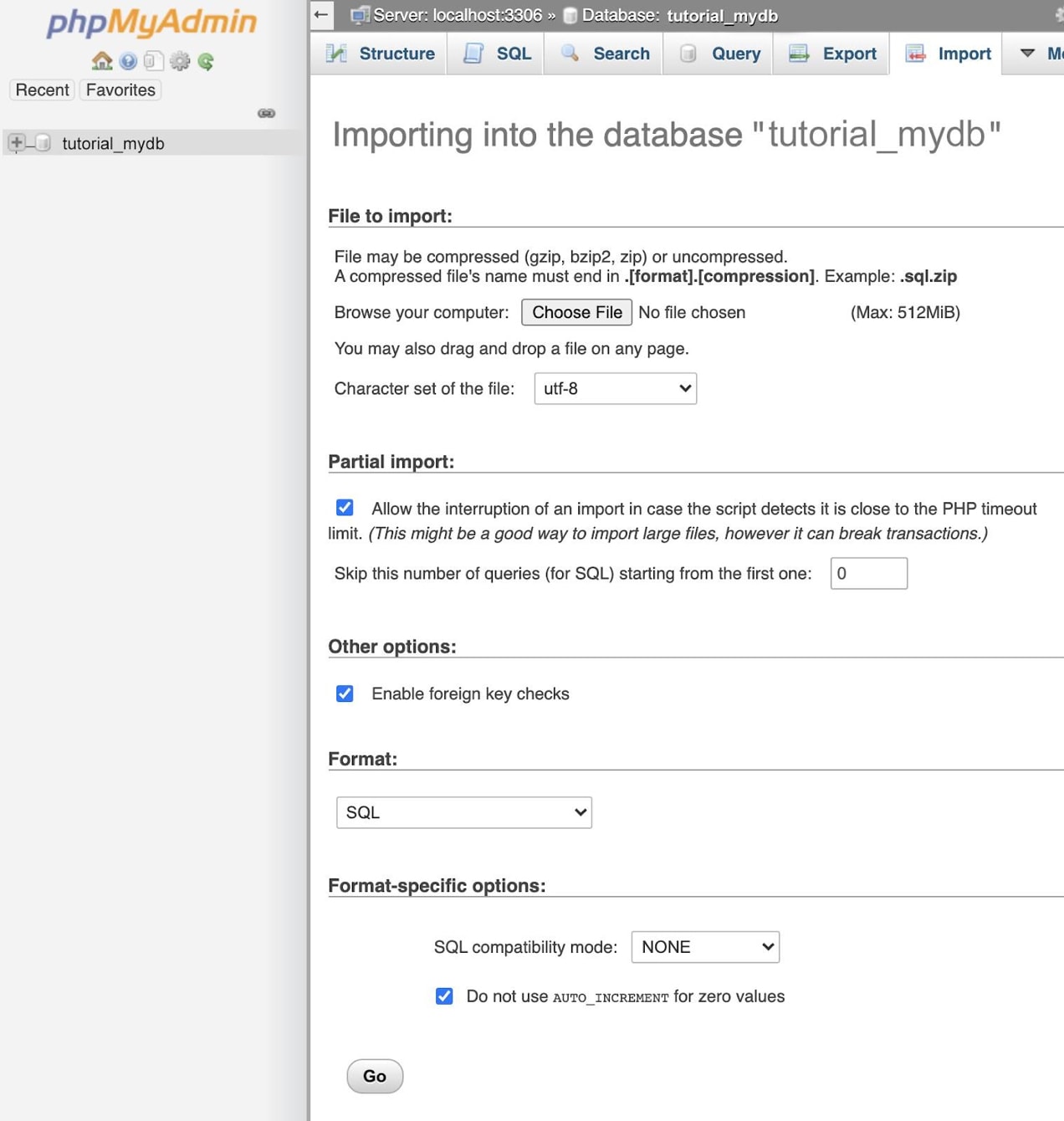 Voilà! You've successfully created a blank database into which you can import your live site's database.
Step 5: Edit your wp-config.php file
Some wp-config.php files also contain the following lines:
To upload your live site's database, you'll first need to create a new, blank database on the staging server.
In your hosting control panel, go to the 'Databases' section and click MySQL databases. 
Create a new database. In this case, the database is called 'tutorial_mydb.'

Create a database user. In the MySQL Users section you'll create a new user. Use a unique username (not "admin" — get creative) and a strong password.
Add the database to the user. In the Add user to database section, select the user and database you just created, then click Add.

4. Double click on the siteurl and home option values under the option_values column and change both of these to your staging URL. Make sure you don't include a forward slash (/) at the end of the URL.

Once you've moved your files from your live server to your desktop, you'll need to export your database and import it to your staging environment. If you try to visit your staging URL before importing your database, you'll see the message 'error establishing database connection.'
Take a backup of your live site before you begin copying your site to staging just in case anything goes wrong. 
Step 2: Copy your files from your live server to your desktop
The wp-config.php file contains important information about your database. This file connects WordPress to vital data like post content, post meta, users, and theme and plugin settings. Your wp-config.php file must be updated with the staging server's database information so that your new staging site can communicate with your database.
Go to the mySQL section of the file and replace your live site's database details with those you just created.
// ** MySQL settings – You can get this info from your web host ** // /** The name of the database for WordPress */ define( 'DB_NAME', 'yournewdatabasename' ); /** MySQL database username */ define( 'DB_USER', 'yournewdatabaseuser'); /** MySQL database password */ define( 'DB_PASSWORD', 'yournewdatabasepassword' );
Here are some benefits and drawbacks to each type of staging site:
One-click staging
In phpMyAdmin:
Select your database.
Click the Export tab.
Select Quick as the export method, choose SQL as the file type, then click Go.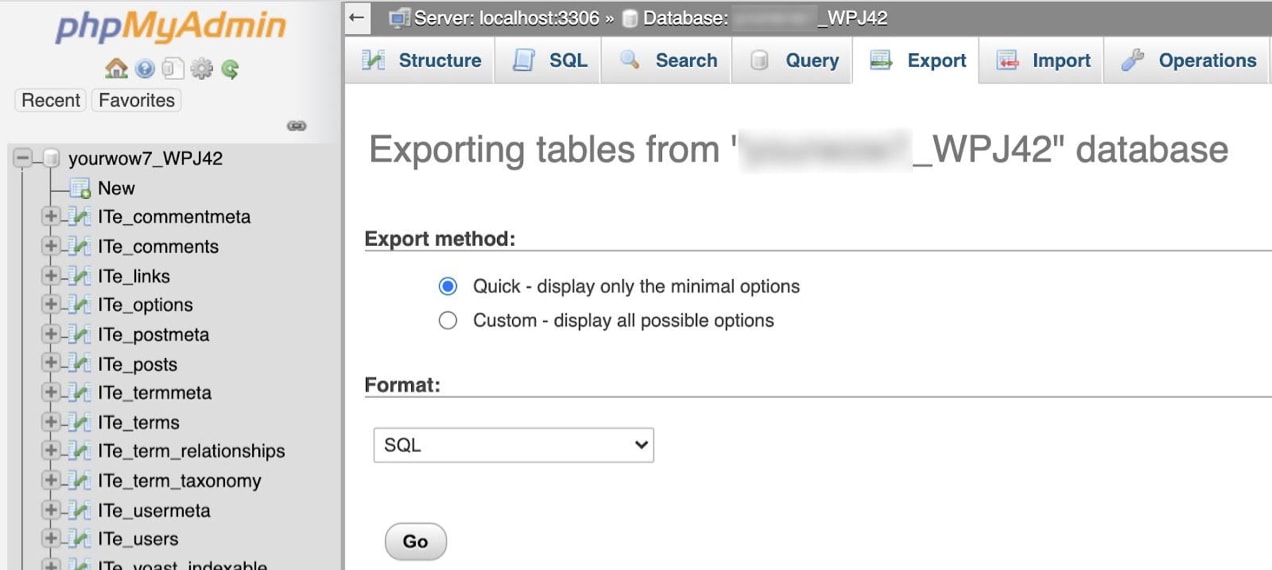 Like Loading…